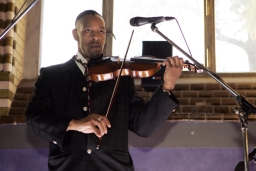 RAYCURT JOHNSON aka FIDDLA, Violin-Viola-Voice-Piano
"Live IS life", various genres of music become formidable Violinist, Singer, Dancer, and Entertainer.
A product of world-class performing art schools and conservatories, classically trained for a world culture of Jazz, folk, R&B music, and everything with a melody.
******
Recordings with artists throughout the U.S. and Europe.
Great notables such as Stevie Wonder, Natalie Cole, Bette Midler, and Carmen Mac Cray.
Akademisches Festival Orchestra, Leipzig,
Kammerorchester de St. Laurentius, in Dessau.
National Gallery of Art Orchestra.
American University Symphony.
La Fete Musique.
MTA-Music Under New York.
Activist for "LIVE" music in public access spaces: 1. Founder of the D.C. Troubadours, "C.A.T.S." (Capitol Area Troubadour Society), Washington, D.C. 1986
2. Bridgetower String Quartet was among initial musical groups to performer in the "MUNY", Music Under New York" Subway Program in Grand Central Station. 1985, The program has continued to bring joyous and engaging music to the commuting public of the city for decades.
3. Member of "Sounds of the Underground", London England. 2006.
4. Strassen Musikers des U-Bahn, Berlin, Germany
Teaching History -- Private studio with student ages 7 and up, and with special needs and capabilities.
New Globe Art Factory Berlin Germany. 2002-2008

Emergence Community Arts Center, Shaw Washington, D.C. 2011-2017

Universal National Memorial Church Washington, D.C. 2017-2020

TAKE LESSONS Online agency. October, 2013-Present
Education
Eastman School of Music University of Rochester, NY full vocal scholarship. BM

Dance Theater of Harlem Summer Workshop 1985-86

Duke Ellington Performing Arts High School 1976 inaugural year.
Performance
D.C. Concert Orchestra Society 2009-2019

D.C. Strings workshop and Orchestra 2011-2019

National Gallery of Art Chamber Orchestra, 2008-10

Akademisch Orchester Leipzig Germany, 2001-2004

Barry Harris Jazz Orchestra, Henry St. Arts Settlement, NY 1985-87
Student placements
Eastman School, Boston Conservatory, Juilliard, Peabody, Universitat Musik and Theater of Leipzig.
Until the day that hate an war are gone ---maybe never Fiddla Plays on...Raycurt.com
*Presse*
City Paper, Wash, D.C. "Arti Facts, Buskers don't, Liza Mundy.
Washington Post -Metro cover story April 13, 2002 "Can the subway carry a tune?"
Washington Post -Metro section, September 27, 2002 "Making a Movement For a Little Metro Music",
Washington Magazine, February 2003 issue.
Gewandhaus Magazin. Nr.55 Leipzig Germany. Summer 2007
*******