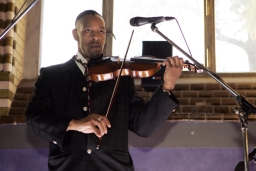 RAYCURT JOHNSON aka FIDDLA, Violin-Viola-Voice-Piano
"Live", performance and producer of classical music concerts and celebretory events.
Recordings with artists throughout the U.S. and Europe. Presentations of jazz and classical ensembles with rotating artists for hire. With a variety of genres of music a formidable Violinist and Singer/Entertainer.
He has performed with notables such as Stevie Wonder, Natalie Cole, Bette Midler, and Carmen Mac Cray. Akademisches Festival Orchestra, Leipzig, Kammerorchester de St. Laurentius, in Dessau, Germany. National Gallery of Art Orchestra, and the American University Symphony. La Fete Musique. MTA-Music Under New York.
Activist for "LIVE" music in public access spaces. Founder of the D.C. Troubadours, "C.A.T.S." (Capitol Area Troubadour Society), Washington, D.C. 1986
Bridgetower String Quartet became the one of the Inaugural performers of the MUNY, Grand Central Station was intitially the location which launched "Music Under New York" Subway Program. Since 1985, Arts & Design has managed the Music Under New York (MTA MUSIC) program, to bring joyous and engaging music to the commuting public.
Member of "Sounds of the Underground", London England. 2006.
Strassen Musikers des U-Bahn, Berlin, Germany
Until the day that hate an war are gone ---maybe never Fiddla Plays on...Raycurt.com
Triumphing civil and constitutional rights for performing Artists. *WORLDWIDE*
*Presse*
City Paper, Wash, D.C. "Arti Facts, Buskers don't, Liza Mundy.
Washington Post -Metro cover story April 13, 2002 "Can the subway carry a tune?"
Washington Post -Metro section, September 27, 2002 "Making a Movement For a Little Metro Music",
Washington Magazine, February 2003 issue.
Gewandhaus Magazin. Nr.55 Leipzig Germany. Summer 2007
*******