MUSIC Albums and DVDs!!!
Gifts from the heart to give solace.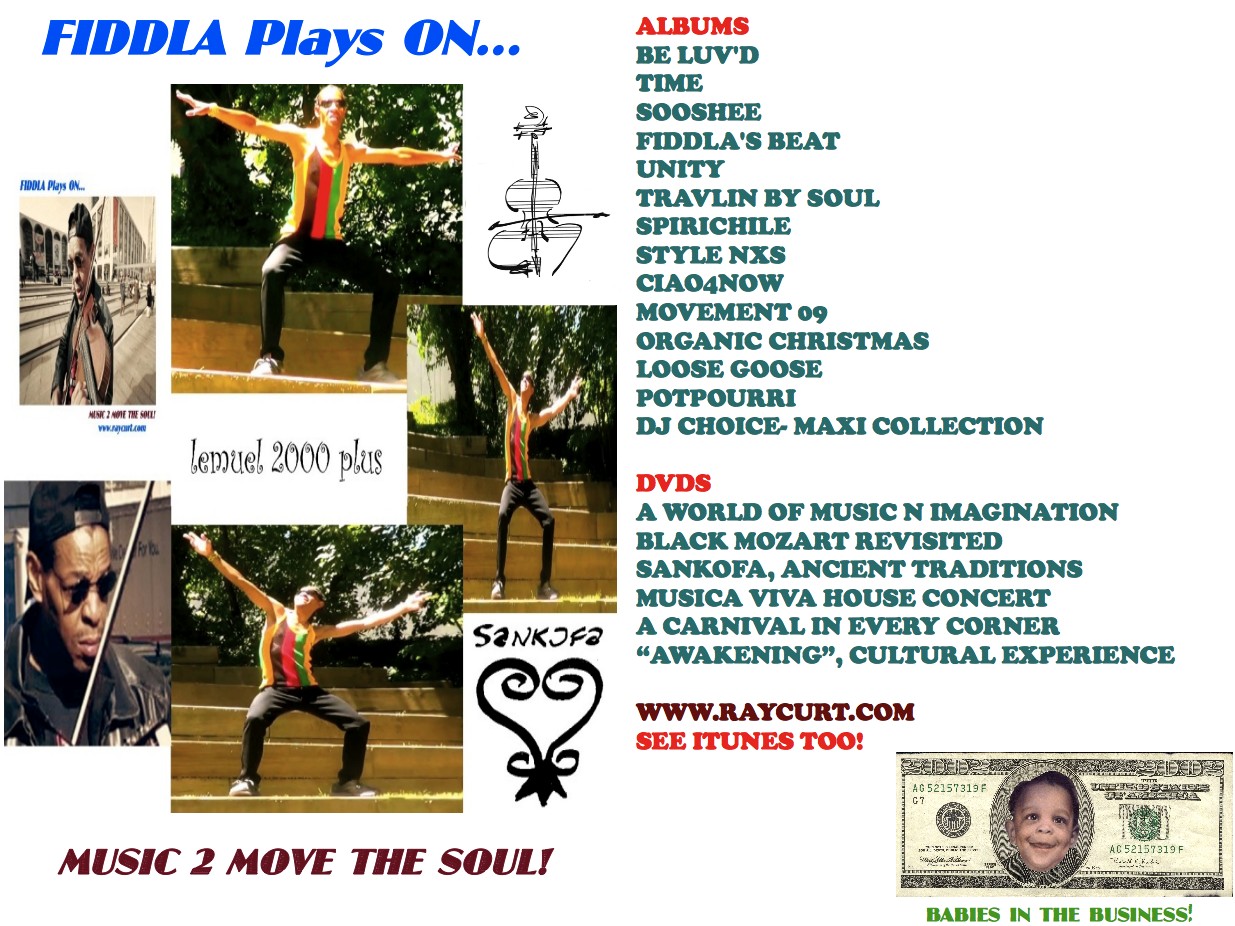 ***Raycurt's Music store on AMAZON***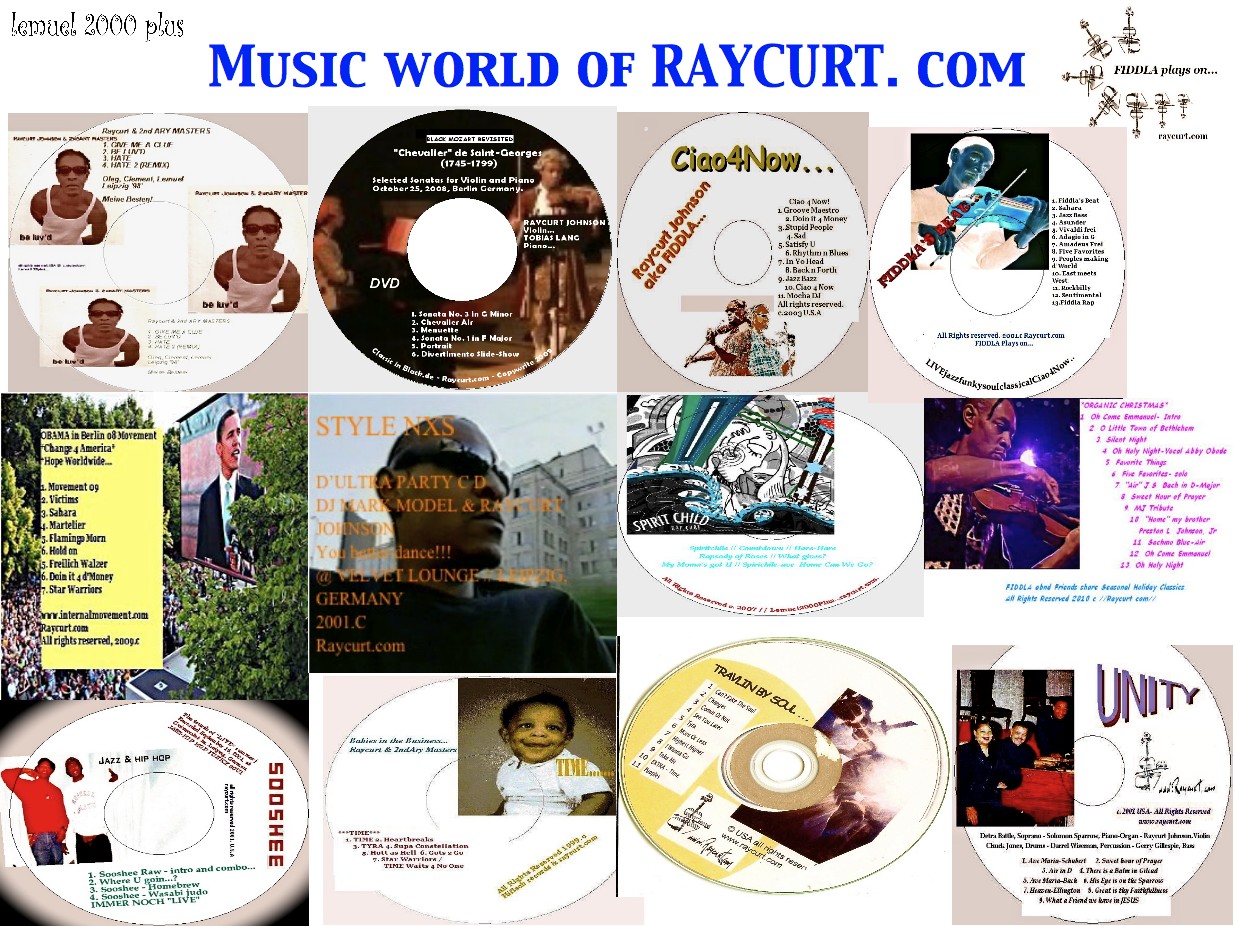 *******

FIDDLA Music online! AMAZON, for sale!

RAYCURT on itunes CLICK 2 Download N BUY your Favorite Tracks.

Buy LOOSE GOOSE on CD BABY!

!


They're Running fast and don't keep still. Catch them now!

Mo Albums 4 YOU! On SONGCASTMUSIC.COM
"CD MENU INGREDIENTS"
"Be Luv" 1998 Hifish records release. 4 track Maxi CD. *Soulistic Sceaming! Maxi CD RAYCURT JOHNSON & THE 2ND ARY MASTERS, INTERNATIONAL. Remixes by DJ Mesia, Berlin 12.4 mins
"TIME" 1997 Neo-wave with Bassist Clement. Self released 7 tracks 32.4 mins
"FIDDLA'S BEAT" 1999 Compilation.15 tracks. 50.7 mins
"HIGHEST HIGHER" 08 Apr 03 EP Vinyl Picolo records 12 inch 45RPM feat. Raycurt Johnson
"UNITY" 2001 "Spiritual Classics". The Music Ministy of Vermont Avenue Baptist Church, Wash, D.C. "2001" Detra Battle, Soprano. Solomon Sparrow, Piano-Organ. Raycurt Johnson, violin. 54.2 mins
"SOOSHEE" 2002 Self released. Jazz-Hip Hop Session. Das Vierte "LIVE" Summer Jam Aufnahme September 15, 2001, Moritz Bastei, Universitat am Leipzig, Germany. 47:00 mins
"TRAVLIN BY SOUL" 2002 Soul stylistic, 08 Apr 2003 11 Songs Recorded @ Hifish, Produced by Clement, DJ. Possom and Raycurt. 49:10 mins
NXS- ULTRA TANZ 2001 "live" session. MC RAY-RAY"LIVE" Produced by DJ Mark Model @ Velvet Lounge, Leipzig Lemuel2000Plus... 2001.c A one track wonder, 1.1 Hour
"CIAO4NOW"

Lemuel2000Plus...

There's tradition of progress. Soul is like that. Then again there's always two sides of a coin. Check'm Out...11 tracks 47:mins Recorded with Damian, 2005.c
"SPIRICHILE" 2007 TRANCENDENTAL SOUL-GOSPEL! 9 tracks 29:00 mins
"MOVEMENT" 2009.c 9 songs Compilation with world-wide ar s. Recorded between 2004 - 2007, U.S. and European collaboration. 44:00 mins 2007.c
An"ORGANIC CHRISTMAS" 2010.c Classic seasonal and holiday favorites. Lemuel2000Plus.
"LOOSE GOOSE" Eclectic Soul! 17 tracks. Compilation with 8 new original compositions 1.1 hour Lemuel2000Plus... 2011.c
***NEW***
"POTOURRI" Jammin Jazz-Swing, Feat. Jay Wasserman n Pedro of "PURA Gusto" Band
***
"Live" sessions, Scratch mixes, International Techniques, Beat-Masters from the world over!
Twelve albums
and Two "Classic" Koncert DVDs.
*International orders, outside of U.S.A. borders.
See the

"
New-Globe-Art-Factory.com" for active EUROPEAN agents. Go to LINKS.