2022 Calendar of Events:
***Mr. Ray;s JAZZ Clinic***
Wednesdays 6:30 PM
MODUS LOCUS GALLERY
3500 Bloomington Ave, Minneapolis, MN 5540
This workshop is for the aspiring musician needing hands on training in the art of jazz standard songs, improvisation of melodies and blues chord patterns and forms. The opportunity to play with others in an environment condusive for listing practice. Register by e-mail before space becomes unavailable.
www.Raycurt.mc@gmail.com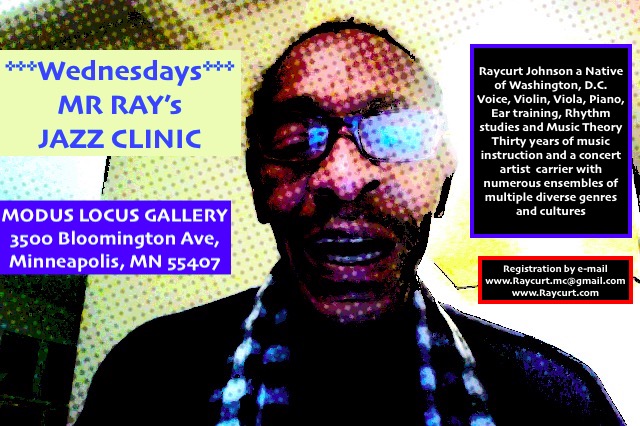 @REVERIE. Abolitionist wall:
1517 East 35th Street Minneapolis, MN 44407
"We are back at GeorgeFloydSquare for the foreseeable future. We'll meet at CFPA based on weather or event schedule conflicts.
Weekly Monday Meet-ups 4:30 PM - 6:00 PM
We don't stop recruiting! All levels of talent and activism is welcomed
***
COMMUNITY ENGAGEMENT!
FIDDLASBEAT membership workshop JAM sessions.
Thursdays 9:30 PM
Marvin (Gaye) Lounge@
Modus Locus Gallery
***
*******
*Online Concert Performances. *ENJOY*
Viola Choir in Concert performing the famous J.S.Bach "Chaccone" https://mediazilla.com/qog0hj2j0
Viola Choir performance Belgian composer Hendrik Waelput Andante Cantabile
https://mediazilla.com/zog0j5r08
https://youtu.be/Kdm7ry1S2OI
Esoteric BACH solo on the Viola.
******
INFORMATION is POWER...
#Fiddlasbeat
Musicians advocacy
"RACIAL Solidarity Tour",
Humans racing towards a mantra of eternal LUV and RESPECT!
***
Respecting one another's pursuit of breathing.